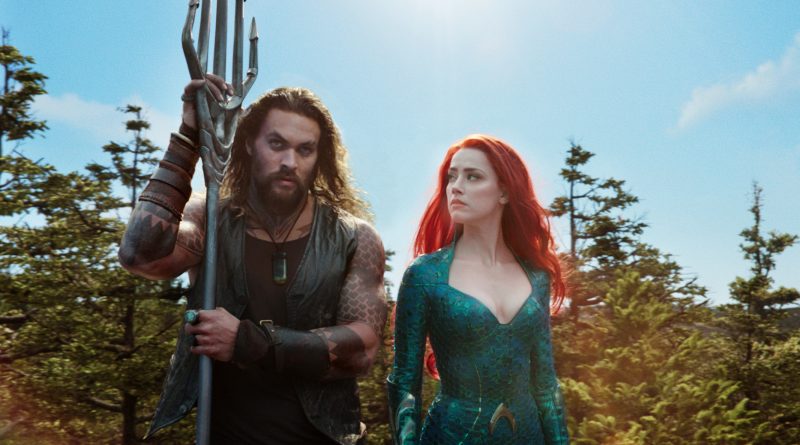 Will Aquaman Make Or Break The DC Film Universe?
When it comes to highly-anticipated movies, Aquaman has a lot riding on its waves. Not only did director James Wan need to work with a title character that has been on the receiving end of a lot of "lame superhero" jokes, but after Justice League's disappointing box office performance caused Warner Bros to rethink their upcoming superhero movie schedule, Aquaman is being seen by many as the movie that is going to make or break the DC film universe. Even though Wonder Woman was a critical and financial success and Suicide Squad performed better than expected, rumors that Ben Affleck and Henry Cavill are done playing Batman and Superman have fed into the impression that the DC film universe is a troubled, sinking ship.
Who better to save a "sinking ship" than Aquaman: King of the Seven Seas?
With Aquaman already earning $179 million in foreign markets ahead of its December 21 U.S. opening, there probably won't be too many people making fun of the character now…at least not the new version portrayed by Jason Momoa.
Aquaman picks up Arthur Curry's story after the events of Justice League. It covers his origin, introduces several new characters, and forces him to come face-to-face with his Atlantean heritage for the first time. Unlike Batman and Superman, who both have had enough films and TV shows for even mainstream audiences to know their backstories by heart, Aquaman has never had a live-action movie or TV show of his own. This gave Wan an entire ocean full of options for the character, but, surprisingly, he stayed very true to the comic books. Aside from Momoa himself not being blond and blue-eyed, like the original Aquaman, nearly everything else about the film is something Aquaman fans should recognize. There isn't a sense that everything is being reinvented and updated to appeal to a new audience, which has been a point of contention for a lot of fans seeing their favorite IP's being brought back to life in ways that are nearly unrecognizable (Star Trek, Star Wars, She-Ra).
Aquaman excels where many other recent superhero movies have faltered in presenting the hero with strong, compelling villains. Both Orm (Patrick Wilson) and Black Manta (Yahya Abdul-Mateen II) were dynamic characters that were used effectively throughout the movie. While many recent comic book movie villains are nearly forgettable or take a back seat to the hero's personal problems until it's time to fight them at the end, Orm's actions drove the plot and Black Manta made a remarkable impression that is going to give that character some long overdue exposure. Aquaman is likely to firmly establish Orm and Black Manta in the public consciousness right alongside other popular DC legacy villains, like The Joker, The Penguin, Lex Luthor, and General Zod.
When it comes to powerful, interesting female characters, the DC film universe is a treasure chest of untapped potential. They scored a big win with Wonder Woman and turned Harley Quinn into a pop culture phenomenon all her own. But they proved they weren't a two-trick pony with Mera (Amber Heard). She made a big splash in Aquaman and it's exciting to think of where they can take this character next, especially if we get to see her not only fighting alongside Aquaman, but also in team-ups with other members of the Justice League. Seeing her side-by-side with Wonder Woman is something that needs to happen.
The costume designs for Mera, Orm, and Black Manta are all incredibly faithful to the comic book versions. Where many comic book film adaptations opt to go with standard black leather or totally revised looks for their costume interpretations, Aquaman kept what worked and it was great to see them come to life on the screen. It's pretty much a given that those characters are going to inspire cosplayers at comic cons throughout 2019 and beyond.
Wan also made some interesting and effective choices for the supporting cast, with Nicole Kidman as Queen Atlanna and Willem Dafoe as Vulko. It was especially fun to see Dolph Lundgren (Rocky IV, Creed II, Masters of the Universe, Expendables) as King Nereus. Lundgren has become a veritable king of the straight-to-DVD action movie market. It's great to see his work being appreciated back on the big screen, especially in a role that is such a departure from his traditional action roles.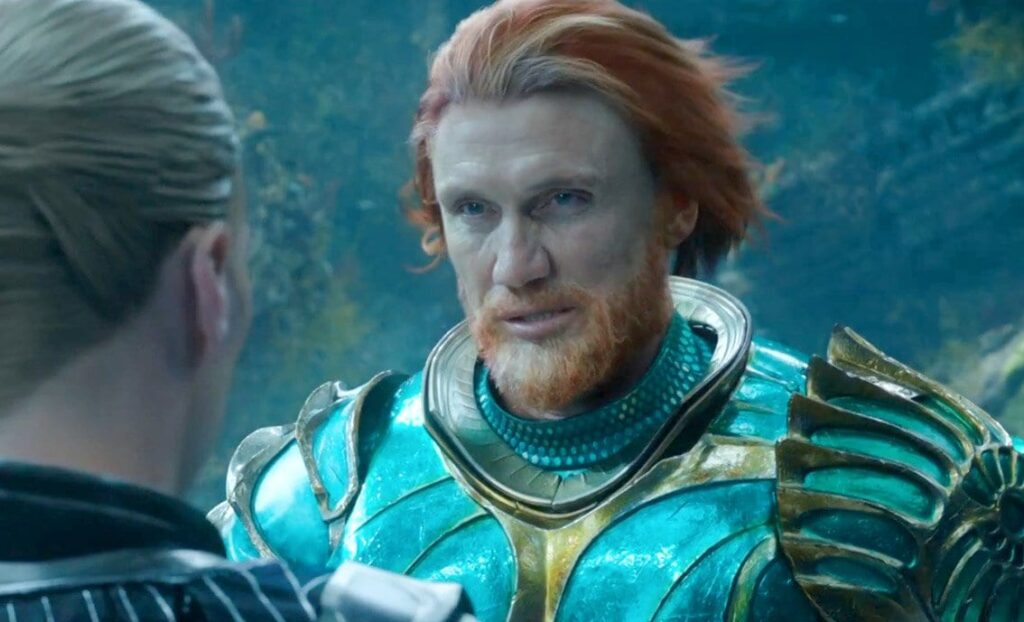 Momoa's Arthur is consistent with the character we saw in Justice League. He plays Aquaman as reluctant to get involved until he has no other choice. But when he gets in it, he gets in it like the force of nature we find out he's named after. Momoa handles everything the script throws at him effortlessly, from action, to personal drama, to light-hearted funny moments. Although there are plenty of laughs, Aquaman thankfully doesn't dive into the forced humor that helped tank Justice League or the over-the-top comedy that became a huge narrative distraction in Thor: Ragnarok.
Visually, the movie was original and stunningly beautiful. The underwater sets, aquatic creatures, and character designs were a unique feast for the eyes that gave the film a very rich and distinct look. It captured the same sense of wonder in revealing underwater worlds that audiences may remember from visiting new locales in the original 6 Star Wars movies.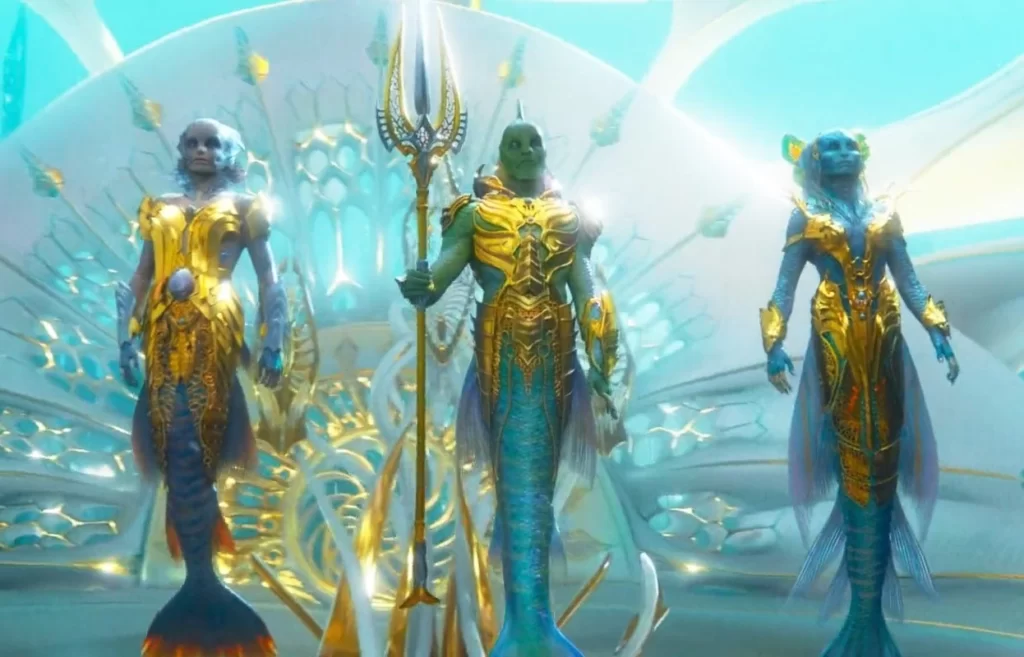 When it comes to superhero movie adaptations, Aquaman gets just about everything right. It broadened the scope of Aquaman's world within the DC universe and surrounded him with interesting, likable, fun, and compelling new characters. It was a dazzling, action-packed, tsunami that was funny and touching at the right moments. Momoa and Heard also had great on-screen chemistry. Aside from a few narrative glitches and sharp turns, Aquaman is the kind of comic book movie that respects the source material and turns it into something comic book fans can be thrilled to see.
Initially, expectations had Aquaman opening in the U.S. at around $40 to $60 million. Those estimates are now looking at a potential opening of $100 million or more. If Aquaman's box-office numbers exceed expectations, that would pretty much do for Wan what Wonder Woman did for director Patty Jenkins, giving him the green light and free reign on an Aquaman sequel.
For those desperate to see the DC film universe crash into an iceberg and sink to the bottom of the ocean, Aquaman is likely to be an unwelcome reality check. That boat just sailed into his waters and that is where he is at his best.
SPOILERS:
Aquaman features one mid-credits scene, but no post-credit scene. Although Stepenwolf's defeat from Justice League is mentioned, no other characters from the DC film universe make an appearance.