Marvel vs DC: Who Is Really Winning The Battle At The Box Office?
According to some critics and fans, the characters in the DC Comics extended movie universe should just hang up their capes because they aren't able to compete with the Marvel Comics cinematic juggernaut. They argue that Warner Bros' DC films have been struggling to "play catch-up" to Disney's shared Marvel universe. But what do the numbers say? Who is really in the lead? The answer may surprise you, because it's not Marvel.
There are many different ways to determine who is in "the lead." Counting Academy Award nominations and wins. Looking at DVD sales. Comparing generally unreliable critic and audience scores from aggregate sites like Rotten Tomatoes. For the purpose of this piece, we're going to consider just box office numbers, both global and domestic.
Marvel launched their shared cinematic universe with Iron Man in 2008 and includes Thor, Captain America, The Incredible Hulk, The Avengers, and all the subsequent Marvel movies. DC launched theirs in 2013 with Man of Steel and includes Batman v Superman: Dawn of Justice, Suicide Squad, Wonder Woman, Justice League, and Aquaman. Since Marvel has released 19 films and DC has only released 6, it would be unfair to compare the box office totals for all of the movies in each universe, so we'll look at the first 6 films in each universe to see how far DC is trailing Marvel at that point in their cinematic universe.
| Film | Release Date | Domestic Box Office | Worldwide Box Office |
| --- | --- | --- | --- |
| Aquaman | 12/21/2018 | 259,720,880 | 940,720,880 |
| BvS: Dawn of Justice | 03/25/2016 | 330,360,194 | 873,634,919 |
| Wonder Woman | 06/02/2017 | 412,563,408 | 821,847,012 |
| Suicide Squad | 08/05/2016 | 325,100,054 | 746,846,894 |
| Man of Steel | 06/14/2013 | 291,045,518 | 668,045,518 |
| Justice League | 11/17/2017 | 229,024,295 | 657,924,295 |
| Iron Man 2 | 05/07/2010 | 312,433,331 | 623,933,331 |
| Iron Man | 05/02/2008 | 318,412,101 | 585,174,222 |
| Thor | 05/06/2011 | 181,030,624 | 449,326,618 |
| Captain America | 07/22/2011 | 176,654,505 | 370,569,774 |
| The Incredible Hulk | 06/13/2008 | 134,806,913 | 263,427,551 |
| Marvel's The Avengers | 05/04/2012 | 623,357,910 | 1,518,812,988 |
Box office totals for the first 6 Marvel & DC films
According to the numbers, DC isn't trailing Marvel at all.
Domestically, Marvel's first 6 films earned a total of $1.74 billion ($1,746,695,384) at the box office. But Warner Bros' first 6 DCU films earned $1.84 billion ($1,847,814,349). That puts the DCU in the lead domestically by $101,118,965 from where Marvel was at that same point in their shared film universe.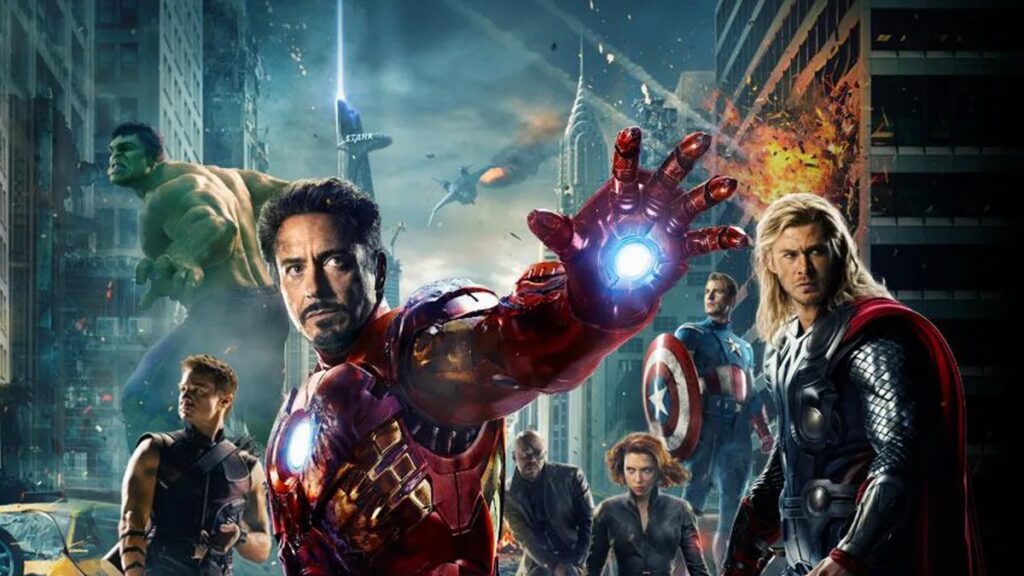 Of the 12 films, Marvel has the highest grossing film with The Avengers, but only two of their other initial films were able to crack $300 million domestically (both Iron Man films), while Wonder Woman, Dawn of Justice, and Suicide Squad each made over $300 million domestically and all made more than both Iron Man films.
Worldwide, Marvel's first 6 films earned $3.81 billion ($3,811,244,484). But the first 6 DCU films earned $4.70 billion ($4,709,019,518), giving them an enormous $897,775,034 lead over where Marvel was at the same point.
Of all 6 Marvel films, only The Avengers made more than $600 million at the international box office, but all 6 of the original DCU films made at least $657 million. With Aquaman still in wide release and at the top of the box office, the gaps domestically and internationally are only going to get larger in DC's favor.
It took 6 movies for Marvel to break the billion dollar mark and it's projected that DC will do the same thing with their 6th movie, when Aquaman crosses the billion dollar mark in the coming weeks. So, in terms of raw numbers, DC actually has a safe lead over Marvel from where they were at the same point in their shared universe. Marvel took a few years to build up momentum and yield big box office numbers, but DC has generally been doing that from the beginning.
After 19 films, Marvel has 6 of the top 20 worldwide grossing films of all time (when not adjusted for inflation). But could DC break several movies onto that list after 19 releases of their own? Aquaman is demonstrating that to be a realistic possibility.
So why is there a continued perception that Warner Bros is failing or even trailing Disney?
Because Superman is the definitive comic book superhero, there is a perception that his first solo movie in years should have done much better domestically than Man of Steel did ($291 million). Snapping Zod's neck at the end of that film was a shock to a lot of fans, who were not happy with director Zack Snyder's interpretation of a darker Superman than they were used to.
The critical beating continued with Snyder's even darker Dawn of Justice, that introduced Batman and Wonder Woman to the DC extended film universe and ended with the death of Superman. While Gal Gadot was praised for her short performance as Wonder Woman, fans remain divided over a gloomy Superman and a Batman now apparently willing to use guns. And though the movie was marketed as a battle between Batman and Superman, the battle itself lasted less than 9 minutes of the 3 hour film.
Justice League also didn't do as well as expected. For the first screen appearance of DC's flagship characters as a team, it was predicted that Justice League would easily make a billion dollars and compete with The Avengers' first group outing. But after Snyder suffered a family tragedy and left the project, Warner Bros brought in Joss Whedon to rewrite and reshoot parts of the film, creating a final product that felt disjointed and rushed and that didn't stay true to the feel or narrative that Snyder had set up in previous movies, leaving fans clamoring online for a "Snyder Cut" of the film that restores the original director's vision – much like the 2006 Superman II re-edited director's cut that attempted to complete director Richard Donner's version of the film years after he had been taken off the project in 1977.
However, while Justice League, Dawn of Justice, and Man of Steel are generally considered to have underperformed both domestically and internationally, all 3 of the other DC films overperformed, in spite of mixed and often brutally harsh reviews from critics for Aquaman and Suicide Squad. Wonder Woman is the only DCU film that received mostly universal praise.
Some fans might say Marvel had a harder job to do with characters that weren't household names, like Superman, Batman and Wonder Woman. But DC faced a similar challenge with Suicide Squad and an even harder challenge with Aquaman, taking a character that was known and generally derided and making him the center of a hit motion picture. Name recognition also wasn't necessarily an advantage for DC, as they had to deal with conflicting interpretations of these characters presented by DC and Warner Bros over the years and satisfy a horde of fans who all had their own ideas as to which versions of these characters were the best.
However you look at it, though, and in spite of their critical reception, the numbers don't lie. Comparing Marvel's 6 Phase I movies to DC's first 6 movies, DC comes out the big box office winner.
With DC's film schedule sent into disarray after Justice League's box office performance caused a shake-up at Warner Bros, only Shazam and Joker are set to be released in 2019 and neither one is likely to make a billion dollars at the box office. Although, anything is possible, considering the unexpected numbers Aquaman is posting. Whereas Marvel will be releasing Captain Marvel and Avengers: Endgame in 2019. Captain Marvel could potentially be a rare misfire for Marvel, but Endgame could easily make $2 billion worldwide.
However, Joker isn't part of the DC extended film universe, which means the 7th and 8th DC shared universe films will be Shazam and Wonder Woman 1984, releasing in 2020. They don't have to compete with Captain Marvel and Avengers; Endgame. They need to compete with Marvel's 7th and 8th films, which are Iron Man 3 ($409 million domestic, $1.2 billion global) and Thor: The Dark World ($206 million domestic, $644.5 million global). Taking those numbers into account, Marvel would have a total of $2.36 billion ($2,362,071,518) domestic and $5.67 ($5,670,627,138) billion global after 8 movies.
For DC to stay in the lead, Shazam and Wonder Woman 1984 would need to earn a combined total of $514 million ($514,257,169) domestic and $961 million ($961,607,620) worldwide. If Shazam massively underperforms and only pulls in Green Lantern numbers ($116.6 million domestic and $219.8 worldwide), that would leave Wonder Woman 1984 to pick up the slack with $397.4 domestic and $741.7 million worldwide. Both are less than what Wonder Woman made in 2017 with $412 million domestic and $812 million worldwide. So, if Shazam is even a modest hit, DC would still have the lead after their 7th and 8th movies, as compared to Marvel's 7th and 8th movies.
For DC to keep that lead, they're going to have to get their act together, because Marvel's Phase II included big box office hits, like Captain America: Civil War ($404 million domestic, $1.15 billion worldwide), Guardians of the Galaxy ($333 million domestic, $773.3 million worldwide), and Avengers: Age of Ultron ($459 million domestic, $1.4 billion worldwide). Yet, so far, not much beyond Wonder Woman 1984 is certain for DC, with only one film seemingly progressing in production, Birds of Prey (And the Fantabulous Emancipation of One Harley Quinn).
They should scrap plans for solo Flash and Cyborg movies, since neither of those two characters really stood out in Justice League and they would be a gamble for Warner Bros. But it would be wise to get an Aquaman sequel on the schedule and that film could potentially include the Amazons joining the Atlanteans in a war, combining the DCU's two safest bets and setting the stage for a Wonder Woman / Mera team-up.
The Green Lantern Corps, focusing on more than one Green Lantern, could also be a big win for Warner Bros if they do enough to distinguish it from the 2011 Ryan Reynold's flop. Many fans were disappointed the Lanterns were not included in Justice League and, if done right, they could be a bigger box office draw than Guardians of the Galaxy and Captain Marvel.
And, of course, Warner Bros should give fans what they have been asking for – Man of Steel 2. Regardless of the mixed reaction to the original, fans want this film and it could be a chance for Warner Bros to give them a Superman who has finally matured into something closer to the hero they remember.