Comic Con Event Calendar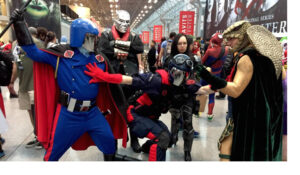 Want to buy some collectibles, stock up on comics, show off your cosplay, or just hang out with a bunch of geeks at the next comic con? Here is a list of comic cons for the New Jersey / Pennsylvania / Delaware / New York region and beyond. Click on the convention logo for more information about that events, including dates, times, venue, and a link to the convention website. Additional cons will be added as soon as their information becomes available.
Attending comic cons can be a thrilling and exciting experience for fans of all ages. The atmosphere is filled with creativity and enthusiasm as people come together to celebrate their love for all things comic books, movies, TV shows, video games, and more. There are endless opportunities to meet like-minded individuals, make new friends, and share in the excitement of exclusive merchandise, celebrity panels, and cosplay competitions. Comic cons provide a unique space for fans to fully immerse themselves in their favorite fandoms and express their creativity through cosplay or fan art. Overall, attending comic cons can be a truly unforgettable experience that allows fans to fully embrace and celebrate their love for their favorite media.

Pennsylvania Toy and Comic Super Show
December 10, 2022 @ 10:00 am

-

2:00 pm
For over 15 years, we have adapted and grown our events to cover all collectibles from antique to the latest, hottest toys and comicbooks. You'll find over 200+ tables with dealers from 5 states featuring:
#Pokemon
#ToySoldiers
, 
#ActionFigures
, 
#DieCast
, 
#SlotCars
, 
#TinToys
, 
#StarWars
, 
#Marx
 Tinplate, 
#Matchbox
 Cars, 
#Funko
 Pops, 
#HotWheels
, 
#Marvel
 and 
#DCComics
 collectibles, 
#Barbie
's, Puzzles, Advertising Toys, 
#Disney
, Boyd's Bears,
#Japanese
 Imports, 
#GIJoe
, 
#Transformers
, 
#MastersoftheUniverse
, 
#Monster
Toys and so much more! With our 30,000 square foot expansion, we will be adding special guests including comic and cell artists and cosplayers!