Comic Con Event Calendar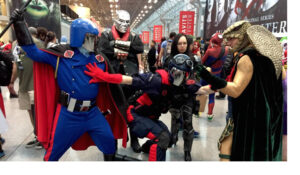 Want to buy some collectibles, stock up on comics, show off your cosplay, or just hang out with a bunch of geeks at the next comic con? Here is a list of comic cons for the New Jersey / Pennsylvania / Delaware / New York region and beyond. Click on the convention logo for more information about that events, including dates, times, venue, and a link to the convention website. Additional cons will be added as soon as their information becomes available.
Attending comic cons can be a thrilling and exciting experience for fans of all ages. The atmosphere is filled with creativity and enthusiasm as people come together to celebrate their love for all things comic books, movies, TV shows, video games, and more. There are endless opportunities to meet like-minded individuals, make new friends, and share in the excitement of exclusive merchandise, celebrity panels, and cosplay competitions. Comic cons provide a unique space for fans to fully immerse themselves in their favorite fandoms and express their creativity through cosplay or fan art. Overall, attending comic cons can be a truly unforgettable experience that allows fans to fully embrace and celebrate their love for their favorite media.

Trenton Punk Rock Flea Market
December 10, 2022 @ 10:00 am

-

December 11, 2022 @ 5:00 pm
The Trenton Punk Rock Flea Market is a DIY craft fair and Cultural celebration which occurs up to five times per year and features a carefully curated collection of more than 500+ unique vendors hailing from more than 25+ states (and Canada) that sell everything from Vintage Clothing & Toys, Original Artwork, Vinyl & Cassettes, Oddities & Taxidermy, Handmade Jewelry, Unique Collectibles, Horror Memorabilia, Interesting Curiosities, Antiques & Collectibles, Comics, Original Artwork, Cosplay Contests & more. This talented tally of creative folks are our life's blood, and we pride ourselves in providing a low-cost, first-class retail platform for local artisans and makers that allows them to bring high-quality goods direct to a large customer base.
Named "One of the Best Flea Markets in America" by Huffington Post, the legendary Trenton Punk Rock Flea Market embraces a life-long love of punk rock and hardcore, DIY ethics, the arts, tattoos, copious amounts of coffee, the occasional Gin and Tonic, a well-timed beer and a solid, well-styled quiff. The mission of founder Joseph Kuzemka was to create an experience in his hometown that is unlike any other, bringing together vendors that touch upon the aforementioned themes while adding the component of gourmet food truck cuisine in a safe, family-friendly shopping environment.