Comic Con Event Calendar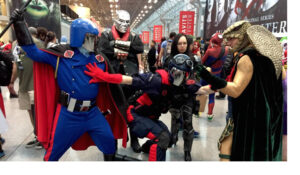 Want to buy some collectibles, stock up on comics, show off your cosplay, or just hang out with a bunch of geeks at the next comic con? Here is a list of comic cons for the New Jersey / Pennsylvania / Delaware / New York region and beyond. Click on the convention logo for more information about that events, including dates, times, venue, and a link to the convention website. Additional cons will be added as soon as their information becomes available.
Attending comic cons can be a thrilling and exciting experience for fans of all ages. The atmosphere is filled with creativity and enthusiasm as people come together to celebrate their love for all things comic books, movies, TV shows, video games, and more. There are endless opportunities to meet like-minded individuals, make new friends, and share in the excitement of exclusive merchandise, celebrity panels, and cosplay competitions. Comic cons provide a unique space for fans to fully immerse themselves in their favorite fandoms and express their creativity through cosplay or fan art. Overall, attending comic cons can be a truly unforgettable experience that allows fans to fully embrace and celebrate their love for their favorite media.

J1-Con Animation & Gaming Expo
November 4, 2022 @ 8:00 pm

-

November 6, 2022 @ 5:00 pm
Established in 2012 under the J1 Studios LLC brand, J1-Con is a convention that focuses on animation, gaming, comic books, art, music, education and content creation. J1-Con is known for being the longest running 100% Black-owned anime expo in the United States, bringing a diverse audience of cosplayers, artists, vendors, musical acts, families, and students together in order to celebrate the love they share for geek pop culture. J1-Con was also nominated for "Event of the Year" at the Philly Geek Awards
Hosted by J1 Studios (famously known for creating Super Bounty J1, Lime Rind: The Rogue Samurai, Cyl'vr, Mega Ran: Random Lyricism, Angel Savior, Xeo Nexus, and Arcana X), this is a convention held by fans for fans. Represent your nerd status- and get hype for the most amazing time of your life!