Comic Con Event Calendar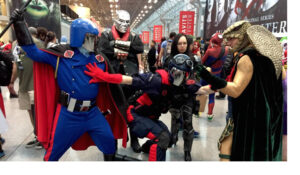 Want to buy some collectibles, stock up on comics, show off your cosplay, or just hang out with a bunch of geeks at the next comic con? Here is a list of comic cons for the New Jersey / Pennsylvania / Delaware / New York region and beyond. Click on the convention logo for more information about that events, including dates, times, venue, and a link to the convention website. Additional cons will be added as soon as their information becomes available.
Attending comic cons can be a thrilling and exciting experience for fans of all ages. The atmosphere is filled with creativity and enthusiasm as people come together to celebrate their love for all things comic books, movies, TV shows, video games, and more. There are endless opportunities to meet like-minded individuals, make new friends, and share in the excitement of exclusive merchandise, celebrity panels, and cosplay competitions. Comic cons provide a unique space for fans to fully immerse themselves in their favorite fandoms and express their creativity through cosplay or fan art. Overall, attending comic cons can be a truly unforgettable experience that allows fans to fully embrace and celebrate their love for their favorite media.

Blue Hen Comic Con & Toy Expo
November 18 @ 10:00 am

-

November 19 @ 4:00 pm
Blue Hen Comic Con is the brain child of a couple of nerds who want to see the community around games, comics and toys grow to extravagant heights in our little state and to help foster that community, a convention worthy of our area was necessary! And so, Blue Hen Comic Con was hatched!
We at Blue Hen Comic Con want to make our effort count for much more than just getting a bunch of rad people together to share in geek culture and collecting toys. That is why we decide to use our power for good and while we have a platform, to use it to help others. To do that we partnered up with Make-A-Wish and Toys For Tots in order to help do more. This gives our community the chance to shine bright and show just how big hearts we have!